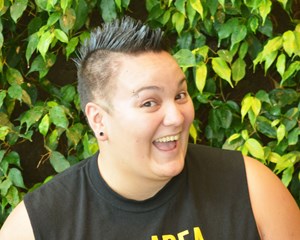 Institute

Red Deer College

Program

Business

Region

Central
Don't go to school because people tell you to. Go to school to reinvent yourself and become who you want to be.
I grew up in the small town of Sundre, Alberta. There wasn't much to do so I played a lot of sports: hockey, baseball, curling, track and field. I also happened to be one of these crazy kids who actually liked school. I've always known I want to make a difference, so I've spent a lot of time trying to base my career decisions on what inspires me.
Towards the end of high school I was inspired by live shows, fireworks, and music, so I decided I wanted to become a lighting, sounds, and special effects technician. My parents tried to talk me out of it. They even set me up their friend's son, who did exactly that, to talk to me about why I didn't want his career. But the more he talked the more awesome it seemed. That is, until I got involved in my school's drama production doing lighting and sound and was totally bored.
I was back to square one, just another kid with no idea what to do after high school. Since I've always been passionate about helping people, I decided to study psychology and sociology at the University of Lethbridge. But after six months I was bored. I tried switching to kinesiology, but that didn't fit either. I was frustrated and my grades were terrible, so I quit.
After quitting school, I starting questioning what I was doing with my life. I still wanted to make a difference, but how? I loved music, so I considered going into music production. But with no knowledge of the industry, I only got as far as working as a bouncer in a bar and listening to local bands perform.
Let's fast forward to the part where I was living in Red Deer and playing roller derby. It was Christmas, and I was back to my parent's house ranting about something, when I exclaimed: "I need to go back to school!" That night, Christmas Eve, I applied to Red Deer College.
I got my acceptance letter a week later, and started class the next day. I'm now in the last year of my business degree. The cool thing about business is that you learn about public speaking, economics and development, marketing, and finance—all very relevant skills that will benefit me no matter where I end up. Right now, I'm aiming for the non-profit sector, something I'm really passionate about.
Every time I've changed my mind, I've moved a little bit closer to toward my end goal of making a difference. Although my path is messy, it makes me who I am.