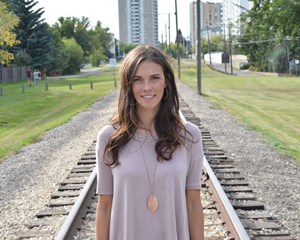 Institute

MacEwan University

Program

Psychology

Region

Edmonton
I'm almost done my degree and still have no idea what I want to be when I grow up but that's okay!
A born and raised Edmontonian, I was an adventurous, sticky kid who loved climbing trees and riding my bike. Summer days were spent outside; we'd take our bikes out and explore until it got dark, using our neighborhood as an imaginary playground. I loved the water so I tried race swimming for a bit. Then I fell in love with diving, and when I needed a change from that, found cheerleading.
In high school I was silly and prioritized sports and friends over my grades. Like many students I was unmotivated, lacked study skills, and had no idea how my brain worked. Because of this I had to do a fourth year of high school at Centre High, which helped me to discover myself as a learner.
Before Centre High, post-secondary had never really felt like an option for me—even though my family talked about it often. Centre High provided the supportive learning environment I needed to figure out how I learn.
Upgrading at Centre High actually made post-secondary an achievable goal for me.
When it came my time to apply I was motivated, but not exactly prepared. I didn't do nearly enough research and had no idea what I wanted to study. So I just went with my gut: I knew I was stronger in the arts than in science or math so I enrolled in the Bachelor of Arts program at MacEwan.
That gut decision worked out pretty well—I'm still in university today, about to wrap up my degree. It turns out I seriously love learning; it's my favorite part about school. I've gained access to an unlimited amount of information that has changed my opinion in many areas—during my time as a student I've basically evolved. It sounds nerdy, sure, but it's also amazing.
There was a point in my life where I didn't think post-secondary was possible. Now, I'm soaking up every opportunity and experience school has to offer. What I'll do once I graduate is still undecided. Grad school isn't out of the question; I'd like to either go into play therapy, become a Behavior Analyst, or do an after degree in nursing. I'm not sure yet, I'm just trying to keep my options open as I explore them more.