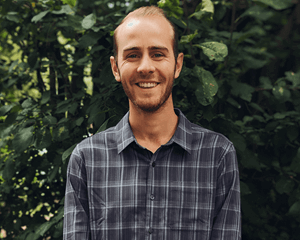 Institute

Springbank Air Training College

Program

Pilot Training

Region

Calgary
University helped me discover my hobbies and introduced me to a potential business partner and a career path I'd never imagined.
Born and raised in Calgary, I was one of those kids that had no idea what they wanted to do after high school. In fact, I didn't know what I wanted to do career-wise until I was about 3 years through a university degree.
I didn't have many hobbies growing up; I sort of floated through grade school without pursuing extracurricular activities very far. I played soccer until I was about 12—but then I stopped because I found that I was not really one for competitive team sports.
Being an animal lover, I thought for a while that I might want to be a veterinarian… until I realized that the job involved more than just petting animals and giving medicine all day. I didn't want to have to deal with the blood and guts and the heartbreaking moments that come with the job.
I decided to pursue post-secondary education in order to set myself up for success in a rewarding career path. I've tried a few different paths since graduating high school. First, I enrolled in the Cabinet Making program at SAIT and completed a semester there before realizing that woodworking is more of a hobby interest to me, rather than a career path that I wanted to pursue.
Instead of continuing at SAIT, I took the next semester to upgrade my English 30 so that I could attend Mount Royal University (MRU). I enrolled in the Applied Bachelors Degree of Ecotourism & Outdoor Leadership (ETOL). My mom actually tipped me off to the ETOL program because she knew someone whose son was in it. It sounded far more interesting to me personally than a degree in business or something.
I was always a pretty shy kid, and I didn't start to come out of my shell until I got to university. It was at MRU that I picked up rock climbing, mountain biking, and kayaking as hobbies, and really started to discover my interests.
As I neared the end of my ETOL degree, I still wasn't entirely sure what I wanted to do with it—so I decided to start flight training at the Springbank Air Training College (SATC) alongside my fellow Learning Clicks Ambassador Shaun who was in the same ETOL program with me.
Together, we're aiming to one day run our own fly-in outdoor guiding/expedition operation, thereby combining our ETOL degrees with our mutual interest in aviation. I'm still working on getting my private pilot license, after which I plan to go right on to pursuing my commercial pilot license.