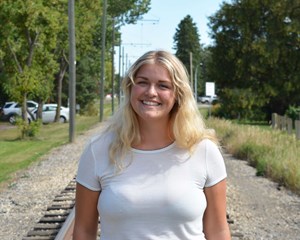 Institute

University of Calgary

Program

Urban Studies

Region

Calgary
University gave me the opportunity to move away from home, and the ocean. I found my passion for the earth next to the mountains.
I grew up in Nanaimo, a small city on Vancouver Island. As a kid, I enjoyed volunteering for anything to do with environmentalism. Neighbourhood beach cleanup? I was all over that. I was the kid who corrected my siblings on what gets sorted into compost or recycling. My mum called me her "granola girl," and still does to this day.
For high school, I moved away from home and went to a small boarding school on the island. Going to a boarding school was a pretty huge adjustment when I was 14, but it did help me gain more independence. David Suzuki actually came to speak at our school, and during his speech he quoted Margaret Mead: "Never doubt that a small group of thoughtful, committed citizens can change the world. Indeed, it is the only thing that ever has." This quote and his inspiring words about environmentalism continue to motivate me to this day.
Throughout high school, I always did best in my English classes and my teachers and career counsellors encouraged me to focus on that. They suggested programs like English or Communications, but I always wondered if there were more opportunities out there. I knew there were probably jobs out there that I hadn't even heard of or maybe didn't exist yet, and I wanted to explore those possibilities.
By the time high school graduation rolled around and it was time for me to choose my next step, I'd reached a point where I was ready to stray a little farther from home. After growing up next door to the ocean where there are two types of seasons—rain and no rain—I wanted to move somewhere totally different. When it came time to choose a post-secondary path, Calgary seemed like a great option. Not only is it one of the driest places in Canada to live, it's also within an hour's drive to the mountains. It sounded perfect to me.
Since I'd already left home for boarding school, moving away for university was a breeze. I moved to Alberta a week after graduating high school and started my post-secondary education that Fall.
I enrolled in the University of Calgary's Communications program because I was pretty confident I'd be good at it, but after my first year I knew it wasn't my passion. So I decided to try a few different options to figure out what really interested me. I tried geology, and geography, but it wasn't until my "Introduction to Urban studies" course that I finally found what I was looking for.
I was literally on the edge of my seat listening intently to the professor describe how Rome's roadway was designed, while everyone else in the class was asleep (like, there were actually people snoring next to me). Despite my fellow classmates' lack of enthusiasm, I knew that this was where I wanted to be. I'm now studying a double major in Urban Studies and Communications, and I've found my passion in extracurricular activities too. I started volunteering for the campus bike shop, The Bike Root, and the Office of Sustainability.
With my passion for sustainability reignited, and my newfound excitement about what I was studying in school, I decided to scratch my travel itch and bike across Canada last summer. Thanks to some sweet bursaries (that's free money for students) I got to conduct research along the way and count it as a course related to my program. This was honestly the best summer of my life and I don't think I would've been able to do any of this if I hadn't gone to post-secondary.