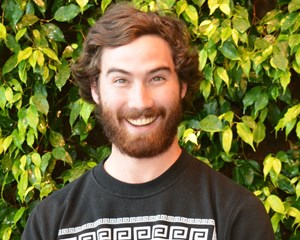 Institute

SAIT

Program

Health and Public Safety

Region

Calgary
MRU Bachelor Of Health Science grad returning to SAIT to mix in a Medical Lab Tech Diploma who just wants to go skiing already.
I've lived in Calgary my entire life. I always looked up to my dad career-wise, and he instilled in me a passion for electronics. I felt sure that when the day came, I'd end up going to SAIT just like him. I would end up at SAIT eventually, but my path there was wildly different than how I envisioned it.
I was a pretty average student in my early years. I started in French immersion and the language barrier was always a problem for me. I enjoyed the idea of learning a different language, but never applied myself and struggled as a result. In the ninth grade I switched into English and my marks improved; I never knew I could be an Honour Roll student!
While I've always loved sports and the outdoors, on any given night in high school I was usually hanging out with friends or gaming and listening to some tunes. You might say I was a little nerdy, but I had a blast and managed to keep my grades up to par, particularly in biology and physics. I had found a new passion.
Cue graduation. I'd discovered my interest in the sciences, but I still wasn't too sure what I wanted to do. So what does any 18-year-old do when they're not sure which direction to take? I decided I might as well go back to school. The only problem was that I hadn't done any research, so I fell back on my childhood plan: be like Dad. I enrolled in SAIT's Electronics Engineering Technology program, but soon discovered that my interest in electronics didn't go much farther than using them. I lasted 4 months.
I re-evaluated my life and decided to think carefully about my choice this time. I decided I wanted to study biology. Unfortunately, I didn't take chemistry in high school so I needed to upgrade. I spent 4 months at Chinook Learning Services doing Chemistry 20 and 30. Then, I applied to the University of Calgary and Mount Royal University. It took me some time but 2 years after graduating high school I was finally enrolled in the Bachelor of Health Science degree at Mount Royal!
I just finished my degree and am now going back to SAIT for round two in a program I actually want to take: Medical Laboratory Technology. I can't wait to start this next chapter of my education and hope that I can soon begin my career doing something I love. High school was a good time, but university was by far one of the greatest times of my life. Who knows what the future holds, but hopefully it has something to do with a lab!