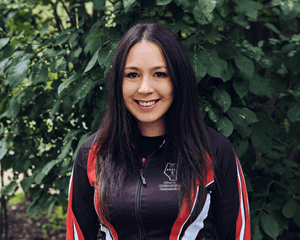 Institute

University of Lethbridge

Program

Accounting

Region

South
I went from being kicked out of school and losing my scholarship to pursuing my dream of becoming a human rights lawyer.
I was born in Magrath and raised in southern Alberta as a proud member of the Blood Tribe. I was that kid that played on every sports team in school and always looked forward to gym class. My idol was Michael Jordan: I aspired to play against him in the NBA. Turns out you have to be male to play in the NBA so this career choice was scrapped quite quickly. In addition to my love of sports, I enjoyed spending time with Elders and children; I've always had this instinct to protect and care for them.
When it came to class, grades, and homework, I scraped by doing the bare minimum: C's and D's were my strike zone. I didn't care all that much about school. I was by no means the most popular girl either. I floated between social circles but gravitated more towards my First Nations peers: it was here I felt most comfortable.
My parents were a huge influence in my life. I was raised by my mom and watched her plow through her post-secondary education when I was young. I was even allowed to attend some of her classes! This experience planted the post-secondary seed within me. Plus, when I was 8 I decided I wanted to follow in my dad's footsteps and become a lawyer, which meant I'd need to get a degree at some point.
The transition from high school to post-secondary school wasn't easy for me. Following graduation, I was unmotivated to enroll in post-secondary and caught up in the social scene. So my mom took my future into her own hands and enrolled me in college herself. I won a significant scholarship and was in line to play basketball at the college level.
But when it came time to commit to my studies, I was missing classes, failing to hand in homework, missing tests, and socializing with friends at all hours of the night: my priorities were way out of whack.
By the end of the first semester I was placed on academic probation; by the end of the second semester I was kicked out of school and lost my scholarship.
After that, I took two years off to work. That's when I began reevaluating my priorities. After much self-reflection, I decided it was time to play a proactive role in my future by enrolling MYSELF in post-secondary this time. I was conditionally accepted at the college and was placed back on academic probation. This time around I was focused and committed to my studies. I learned how to effectively manage my time and mentally prepare myself for my schoolwork.
I enrolled in general studies for a year and took all sorts of classes to figure out what subjects I enjoyed and was passionate about. This led me to declaring business with a focus in management, accounting, and First Nation's governance as my majors.
Following graduation my plan is to attend law school to fulfill my life's purpose of protecting those who are most vulnerable. I want to work as a corporate and human rights lawyer to advocate for fair and just policies for First Nations people.
My favorite part of post-secondary so far is that it's encouraged me to take charge of my future and decide my own path. Post-secondary has taught me a lot about myself: what I'm capable of and how much I can influence the world to make it a better place. College has taught me how to harness my energy towards the things I'm passionate about.