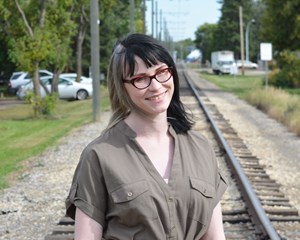 Institute

Grande Prairie Regional College

Program

Open Studies

Region

Northwest
Next year I'm planning to study costume design at a university in England; my dream is to create costumes for BBC productions!
I was born and raised in Grande Prairie, Alberta. I was a creative kid, always reading, making up stories in my head, and using my imagination. School was fun, I met friends and enjoyed learning, but I was terrified of life after high school. All my friends knew what they wanted to make of themselves and I had no idea.
I was okay at math so I tried studying commerce in college, but that didn't pan out. Then I tried studying English, but that wasn't right for me either. During that time I started going to conventions with my friends, where all these talented people give talks and dress up as their favourite characters. I was in my element: I love dressing up and I jumped on the opportunity to make costumes for myself and my friends.
After my fourth year making costumes, I had an idea: it's someone's job to make the costumes and outfits you see on TV and in movies, so why couldn't that someone be me? Once I had a goal, I had to figure out how to achieve it. I knew I had to go to school, but choosing where to go was tough. There are places close to home I could study at, but I had to think of my end goal—my dream job.
Since my mom and grandma were both born in Ireland, we always watched shows created by the British Broadcasting Corporation (BBC). After some thinking I realized I wanted to design costumes for the BBC.
After doing some internet research I discovered that many schools in England offered programs for me, and most of them had contacts and alumni working for the BBC. It became suddenly, and terrifyingly clear: my best bet would be to go abroad, study my full bachelor's degree in England, and make connections to continue my career.
I applied to a few schools in England, and in October, I received an unconditional acceptance (as well as a rejection). So while I wait to start this new adventure in England next year, I'm enrolled at Grande Prairie Regional College, because I believe nothing learned is ever wasted, and this way I'll stay in a post-secondary mindset.
One of the main challenges I face in going overseas for school is my mental health. I've been diagnosed with depression and generalized anxiety disorder, and while my diagnoses do not define me, they are certainly a part of my life. Mental health issues effect a lot of students, but I strive to insure it's just a hurdle, not a stumbling block. In a few years, after a movie plays in a theater and everyone has left, the credits will roll and my name will be there, I know it!