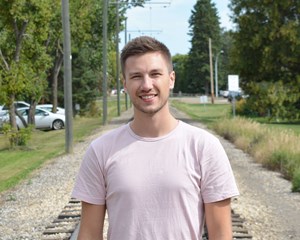 Institute

University of Calgary

Program

Biochemistry

Region

Calgary
I followed the traditional path to medical school, but found a passion for business, volunteering, and activism along the way.
I was born in Eastern Europe and immigrated to Canada in grade 2. As a result, switching schools, making new friends, and constant uncertainty is something that I had to get used to—along with correcting the way people say my name. However, forming a solid group of friends during junior high was fundamental to me in adjusting to high school life, and had a significant effect on my ambitions and dreams.
High school was an awesome time in my life, filled with the freedom of driving, getting fast food during lunch, and choosing my own classes. However, despite this newfound freedom, I still buckled down, did my homework, and studied hard for exams. At this point, teachers and parents expected us to start planning for a career we'd supposedly have for the rest of our lives (yeah, I don't get it either…).
Sciences were always my strong suit, so my top choices were between sciences, health sciences, and engineering in post-secondary. After volunteering at a hospital in my final year of high school, I crossed engineering off my list and applied into the Honours Biochemistry program at the University of Calgary. Why? Because I couldn't choose between programs and had to essentially flip a coin between the majors I was interested in - I've learned that sometimes in life you have to leave big decisions to chance, and I knew that there was always the opportunity to switch if I hated it. This may seem harder said than done, but finding a degree that is 100% compatible to you on your first try is rarer than you think. 
I always knew deep down that I wanted to pursue medicine, however besides my short stint volunteering at the hospital in Red Deer, I didn't have any strong extracurricular involvement that could translate into a competitive medical school application. That meant that I was already behind in the race amongst my peers who'd been involved in many volunteer positions throughout all of high school.
My first year of university went by, and despite getting good grades I came out feeling very unaccomplished because I hadn't gotten involved in any new opportunities.
Second year was a clean slate, and I volunteered with a program in Calgary that offered students the opportunity to provide swimming experiences to children impacted by disabilities. Being a seasoned swimming instructor, I jumped at the chance and volunteered every weekend for a full semester!
Unfortunately, the swimming program came to an end and I was back to square one. That's when I realized that there was nothing at the University of Calgary that provided students with a consistent opportunity to work with kids impacted by mental and physical disabilities, so I decided to start my own program with two of my best friends. Fast forward a year and a half, and we now connect over 100 student volunteers with children impacted by disabilities in Calgary, and I'm currently in the midst of incorporating our program as a charity!
My experiences in volunteering and activism have led me to more and more opportunities, like: job shadowing physicians; starting different clubs on campus; volunteering at fun events; mentoring first-year students; working on a fascinating research project that builds on the knowledge I've gained over the last three years of my university degree; and even being involved in an agriculture business start-up.
Ultimately, post-secondary goes far beyond schooling. I've learned that there is nothing more important than seizing every opportunity that comes at you, not being afraid to take on your dreams no matter how crazy they may sound, and following the things that interest you. While my story has had many bumps along the way, I've chosen to embrace failure, as there's no better lesson you can learn than from failing—it'll always work out in the end, no matter what.