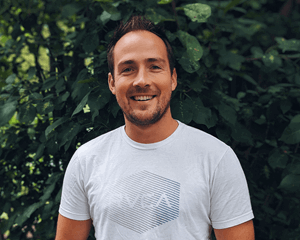 Institute

Springbank Air Training College

Program

Pilot Training

Region

Calgary
It wasn't 'til I went cliff jumping in the UK that I realized my passion for outdoor adventure and found a program that suited me.
My mom never pressured me to decide what I wanted to do after graduation, so when high school ended I had no idea what was next. In an effort to find a direction I did a variety of odd jobs. At the time I thought I was ahead of the game since I was making money and my friends were all in school paying tuition.
Fast forward four years and my friends were graduating from university. One of my friends had found a job teaching in London, England—but she wasn't too stoked about moving there alone. At the time all I was doing another odd job so I decided on a whim that I'd go with her. Little did I know that this singular decision would set me on a path to Mount Royal University.
Living in the UK is a soccer lover's dream: they live and breathe the sport. I played a lot of soccer while I was there, it was a great way to network. I also had some pretty stellar outdoor adventure experiences, like the time I had a guide take me on a coasteering trip: a mixture of rock climbing, cliff jumping, and caving into the ocean.
In the midst of this crazy adventure I had a realization: I was paying my guide to do back-flips into the ocean. I thought she had the coolest job ever, the sort of job I'd love to have.
I got to chatting with her about how she'd gotten into this line of work and discovered that with my life-guarding background I was qualified to be a guide. By the end of the day I managed to land a job with her and spent the next two years getting paid to jump into the ocean too!
Those two years were awesome, and I realized that I wanted to build a career for myself in the ecotourism field. That would mean I'd need some sort of post-secondary education under my belt. That's when I started researching universities back in Canada and stumbled across Mount Royal University's degree in Ecotourism and Outdoor Leadership. I was sold.
I've now graduated from Mount Royal University and post-high school me never would've imagined that he'd be where I am today. My time in post-secondary has been incredible and full of opportunities to partake in things I love: I played for the university soccer team; traveled to the United States to mountain bike and canoe; did a field school in Norway; and went on an international exchange to Japan for a year where I also played soccer for the university there. All of this was part of my degree and counted towards school credits!
Near the end of my degree I decided to pursue a dream of mine that I had since living in Europe: to become a pilot!  Students often change their mind in their career paths and apparently, I am no exception. Now I want to combine my love for the outdoors with aviation by starting a float plane company.
I'd say the best part about post-secondary is the freedom you get to explore your interests whether through school clubs, sports, or classes—there's something out there for everyone.