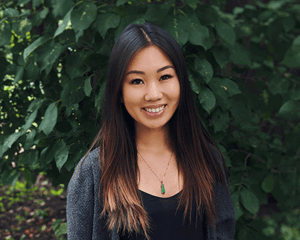 Institute

University of Alberta

Program

Human Ecology

Region

Edmonton
I thought I knew exactly what I wanted to do for post-secondary but that completely changed once I actually started university.
I was born and raised in Edmonton and am a first generation Canadian. My parents immigrated to Canada from Vietnam and, as I grew up, they pushed me to pursue post-secondary education because they didn't have the opportunity to. There was always the expectation that I'd be off to university after high school.
I was a pretty imaginative kid, always reading, writing, and singing. I loved school and even thought about becoming a teacher at one point. However, my ideas of what I wanted to be when I grew up continued to change throughout my childhood. I remember wanting to be a writer, a fashion designer, and even a pilot – just to travel the world!
Throughout junior high and high school, I was ambitious and achieved good grades. My solid marks, plus pressure from my parents, meant that post-secondary was always there at the back of my mind. What I wanted to do, though, was always changing.
Being a part of leadership and other clubs helped me realize that I loved interacting with people. I also really enjoyed planning, marketing, and organizing things. I guess this is what drew me to a business degree at the time. After reassurance from family and friends, it seemed like the perfect fit for me.
I was definitely one of those people who had a set plan and was ready to accomplish it. Four years of university? I was ready! Or… was I?
I got accepted into the University of Alberta and I spent my first year completing pre-requisite courses before applying to the business program. Not gonna lie—I found that first year extremely challenging. I found my courses difficult, and not that interesting. I was failing exams for the first time ever. High school me would've been shocked at my grades!
Long story short: I didn't end up getting into business and this really took a toll on my self-esteem. It might sound weird, but rejection and failure was something new to me. My four-year plan was thrown out the window and I was super confused because I wasn't sure what my next step would be.
In my second year I decided to go easy on myself and took some random courses to boost my grades. I found myself in a Human Ecology course learning about relationships and dating. It was the first time in post-secondary where I was genuinely interested in the material I was learning. After some uncertainty, I ended up switching my degree choice.
It felt scary to suddenly change my mind but—fast forward to today—I'm now working towards a Bachelor of Science in Human Ecology and am extremely happy with my decision. I love what I'm learning and have met some amazing people in my classes.
As I go into final year of my degree, I'm excited for what lies ahead. I've thought about working with families through program planning or applying my knowledge towards policy work. On the other hand, I've also thought about getting an after-degree in education or a master's degree in social work. Truthfully, nothing is set in stone… but that's okay because if I've learned anything from my time in university, it's that things don't always go according to plan! It's okay to take your time and keep your options open!