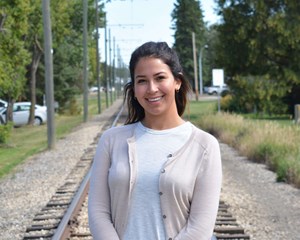 Institute

University of Alberta

Program

Native Studies

Region

Edmonton
I never thought I'd be pursuing a degree in Native Studies but it's allowed me to pursue so many interests I didn't know I had!
Growing up, I didn't think about post-secondary all that much. My parents are both immigrants and my mom got her post-secondary education here in Canada after she had kids. I kind of always assumed it was something I'd do too, but I really didn't know how I was going to get there.
In high school I joined the swim team and, as a result of having to wake up early for 5 am practice, I developed pretty good study habits and was getting good marks. My swim schedule kept me on a routine. However, getting up so early eventually wore me down and make-up and straightening my naturally curly hair eventually took precedence over swim practice.
It was then that my marks started to decline. Back then I was concerned more with enjoying myself rather than worrying about my options after high school. My mom tried to get me to focus by enrolling me in extracurricular activities like Taekwondo and Spanish school. This only fueled my rebellion more.
By the time grade twelve came, I knew very early on in the school year that I didn't have the marks to get into post-secondary. This actually came as a relief, since I didn't have to stress about application deadlines or choosing a program (I'm super indecisive and decision-making tends to bring on anxiety).
After high school, I decided to follow one of my friends to Centre High so I could upgrade my marks. To my friends I acted like I was completely cool and knew what I was doing. On the inside, I was embarrassed about upgrading.
Someone actually told me that if I needed to upgrade, then there's no point going to post-secondary after because I clearly don't have what it takes (this is so NOT true).
Centre High turned out to be the complete opposite of what I'd pictured in my head. I became the student I thought I was never capable of being. My teachers gave me the independence to make my own decisions, and this autonomy was key. I no longer felt I was inadequate. My marks, my self-esteem, and my desire to pursue post-secondary all went up as a result.
In my second semester of Centre High I took an Aboriginal Studies 30 class. I wasn't particularly motivated to take this class, it just fit better in my schedule—but it actually ended up changing my life. I learned about issues I'd never heard of prior and decided to apply to the Faculty of Native Studies at the University of Alberta.
This was one of the best decisions I've ever made. To date, I've never been bored with any of my classes and don't see school as a chore. Currently, I'm in my fourth year of a combined degree along with Environmental Conservation Sciences. My aim is to bring recycling to First Nations communities, which really ties together both of my degrees. I even got to spend a summer volunteering with a First Nations community and helping them create a recycling pilot project.
I never thought that school could be something I'd enjoy but keeping an open mind has allowed me to pursue options that I otherwise wouldn't have considered.