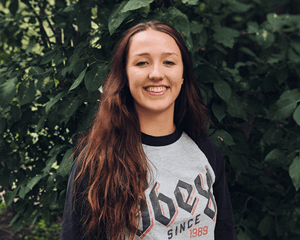 Institute

University of Lethbridge

Program

Education

Region

South
I've always wanted to inspire others, so becoming a teacher is the next step in my journey.
I was born and raised in a small town in Southern Alberta called Raymond—so small, in fact, that we didn't even have street lights. I was an outgoing kid who loved to help people and I always said I was going to change the world! Yep, I was definitely ambitious.
I figure skated until I was nearly 13, played sports in high school (volleyball, basketball, and rugby), was involved in band and played the trombone, sat on student council, and did work experience. You name it, I probably had something to do with it. I was involved. I loved school.
One year I remember having to fill out a form to pick my classes for the next year. That got me thinking about what I wanted to do for the rest of my life—which was perhaps a tad dramatic because really, who knows what they want to do for the REST of their life, especially when they are in high school??
Anyways, I kept going back to my childhood dream of wanting to change the world. So I figured I'd start small with just inspiring one person. I looked around at the people that inspired me: my teachers.
My teachers always believed in me and showed me that I could do anything. I decided I wanted to become a teacher, too.
I'd spend hours on the internet exploring my options. Eventually I determined that the University of Lethbridge was a good fit for me. It was close to home, they have a really good education program, and after talking to a number of teachers, friends, and family, I thought it sounded like a great institution.
When it came time to apply in grade 12 I'd already hunted for scholarships and I thought I was ready. But then I got scared and changed my mind. I decided I didn't want to go straight to university, I wanted to use a stepping stone to get there. So I talked to a few academic advisors, and decided to apply to Lethbridge College for my first year of post-secondary—easily one of the best choices I've ever made.
After my first year in college, I transferred easily to the University of Lethbridge, and I'm now entering the fifth and final year of my combined Bachelor of Science & Education (majoring in Math). When I'm not nerding out on math homework, I'm probably working out in the campus gym or playing roller derby.