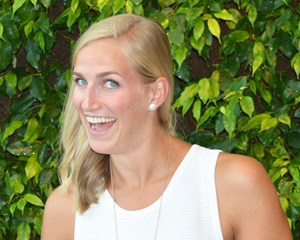 Institute

University of Alberta

Program

Rehabilitation Medicine

Region

Calgary
Full-time Master's student discovering my new identity and interests after life as a varsity volleyball athlete.
Growing up in St. Albert, I dabbled in a bit of everything from Brownies, to piano, to competitive gymnastics. Given the advantage of being 6 ft. tall by grade 9, sport was kinda my thing. In junior high, I did it all: basketball, track and field, volleyball… you name it. I found my passion in volleyball after my grade 7 math teacher and volleyball coach made me fall in love with the sport by making it FUN. I spent the rest of my school years playing on school and club teams, with summers spent playing in camps and on Team Alberta.
My athletic ability meant that I was recruited to play for many university teams. Since I was always a high achiever in athletics and academics, the question was not if I would go to post-secondary, but rather where I would go. This decision took a lot of research, reaching out to those who had gone through the process, and writing multiple Pros and Cons lists (I'm not the best decision-maker of all time).
The University of Alberta topped my list, but I was very tempted to choose a different school in Canada—or even the United States—to experience living away from home. Ultimately, I chose the best of both worlds and decided to stay in Edmonton at the U of A but move out and live on campus with my teammates.
I enrolled in General Sciences based on my interest in biology and the human body, and after taking a few psychology courses I transferred to a Bachelor of Science degree, majoring in psychology. My undergrad experience was incredible! I was surrounded by other people pursuing their passions, which was extremely inspiring. I immersed myself in every opportunity possible, becoming the VP External for the University Athletics Board and juggling studying, training, traveling, volunteering, and partying.
To be honest though, after finishing my first degree I felt a little lost. I took some time off to follow my dreams, traveling to multiple continents and playing volleyball for a year in France. I came home to a sad bank account and found myself asking, again: "What do I want to do with my life?"
After some soul-searching, job shadowing, and a bunch of research, I enrolled in the Master of Science in Occupational Therapy program at the U of A's Calgary campus. Although this program will probably lead to an exciting career as an Occupational Therapist, with my travel bug and ever-changing interests I can never be sure what new opportunities the future will hold!