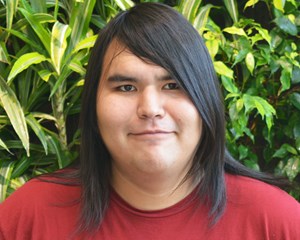 Institute

MacEwan University

Program

Communication Studies

Region

Edmonton
I moved to Edmonton for school which is kinda funny because I used to be terrible in school, to the point where I dropped out.
I was born in Edmonton, where I spent the first eleven years of my life until I moved up to Peace River. I spent many years in both rural and urban communities, so I have a nice appreciation of both! I definitely enjoyed moving back to Edmonton, although it did take some adjustments.
As a kid, I was a loner type, I liked reading and video games and that was about it. I managed to squeeze by in school without really trying, but that soon caught up with me. My grades were never top of the class; I was very much the (below?) average student. I never really improved, even as I got closer to graduation. It took me dropping out for a few years to realize how important it is to graduate.
During the time I was out of school I worked several jobs, some better than others. None of them required me to use my full potential though, so I was pretty unhappy with the direction my life was headed. While working, I decided to go back to school and eventually I graduated. I was one step closer to personal fulfillment. Yet, I was still working in customer service, even with my G.E.D under my belt. I needed more, so I decided to continue my education and work toward a career I would enjoy.
My family couldn't afford to save up for post-secondary, so I had to find another option. I applied to as many scholarships as I could lay my hands on (with a special thanks to my guidance counselor for showing me the ropes), and was awarded a bursary that paid for my full tuition! So I decided to pursue a degree in journalism because that seemed to be a program where my skills and interests would align.
After that, the rest is history. I'm now enjoying life in the city, going to school at MacEwan, and working as a Learning Clicks Ambassador—which means I get to speak with students about the many benefits of post-secondary education. Things are looking up for me and I'm very excited to see what my future in journalism will bring!