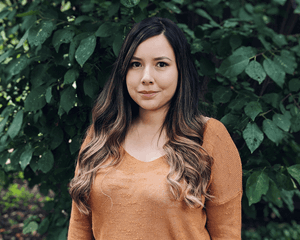 Institute

Northern Lakes College

Program

Social Work

Region

Northwest
I've changed my career choice literally eight times but I've finally chosen what I want to be when I grow up!
I was born in High Prairie and raised on the Gift Lake Metis Settlement for most of my life. Growing up, I loved to be outdoors, draw blueprints of houses, make up dances, and create make silly videos. All my friends played hockey so I joined too, but didn't enjoy it as much as everyone else—I've always been more into the arts than sports!
My grades were average throughout high school. All I cared about was passing so that I could get my high school diploma. I knew I wanted to go to post-secondary but just did not know what for. When I learned that my grades barely met the admission requirements to be considered for most of the programs that interested me, I realized I'd need to upgrade. In hindsight, I wish I worked harder in high school, but I'm glad that upgrading was an option for me.
After high school I wasn't totally set on a career. I wanted to be everything, honestly: interior designer, teacher, architect, actress, lawyer, travel agent, cop, or social worker were all on my list. My parents agreed to let me take a year off before applying to post-secondary, but that year turned into FOUR!
During those years, I explored who I was by volunteering, working different jobs, and sitting on two youth groups: Youth Advisory Panel and Metis Settlement Youth Network Society.
Sometime I wish I would've just chosen a career right out of high school because I'd already be working in my chosen field by now. But then I remind myself that all those years in between high school and post-secondary taught me so much about myself. 
For example, I discovered I love acting! I signed with an agent who landed me some small gigs, and then I completed an Acting Essentials certificate through the Vancouver Film School. The program was amazing; everyday I was forced to come out of my comfort zone and be silly in front of people I barely knew.
After pursuing my interest in acting, I decided to explore the field of social work. I took courses at Yellowhead Tribal College and was eventually able to transfer some of my credits to the Social Work diploma program at Northern Lakes College. I ultimately chose this program because it's close to home, which is important to me. All my classes are offered online—which means I can literally log onto my classes from anywhere! Cool, right?
I'm passionate about the field of social work because it's a helping profession that nurtures the growth of a person's physical, psychological, intellectual, emotional, and spiritual well-being. One day I hope to work in a school or agency that supports youth.  
Making the decision to go back to college was one of the best decisions I've made. Everyone's journey is different, so I'd encourage you to try new things and explore your interests. It's okay to not know exactly what you want to do straight out of high school!