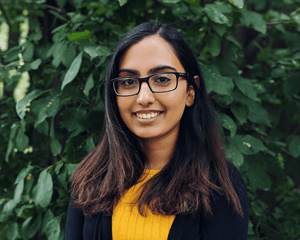 Institute

University of Lethbridge

Program

Public Health

Region

Calgary
I never thought I was the type to get really involved in student life, but these days I'm super involved on campus and it's rad!
I was born and raised in Northern Manitoba, and spent most of my time shielding myself from the cold! I was always hands-on in school and I absolutely loved to play sports, you name it and I probably played it at some point. Long story short, I've always loved school and still do - it's the place where I see my friends everyday, and learn about myself and others. It feels like home to me.
During the summer before 9th grade I moved to Calgary. The move was really hard on me, and I struggled to make friends. Needless to say I was feeling homesick. It wasn't until my last two years of high school that I finally found my footing. I became the editor of our school yearbook and started to become more involved in other extracurricular activities. I was excited for my future, and most importantly I was excited for post-secondary.
But when grade 12 rolled around, things took a turn. I was lost and confused about my future and what I wanted to do next. I lacked confidence, and actually put off applying to university until two days before the application deadline. When my mom found out she handed me the laptop and told me to pick something, so I picked science. I chose to apply to science because I had thought one day I wanted to become a doctor. I also decided to go to university because both my parents never had the opportunity, and I wanted them to be proud and taken care of in the future.
I ended up going to Mount Royal University and completed my first degree in general science with a concentration in human biology. I was heavily involved on campus, working for New Student Orientation for two summers, serving as President and Founder of the Student Society of Science and Technology, becoming a peer health educator, and sitting on a high level board with important decision makers in relation to policy changes for Mount Royal.

It wasn't until the final year of my degree that I realized that as much as I loved science and studying the human body, I was missing people. I had more fun pursuing my extracurriculars than learning the material in my classes. It dawned upon me that I didn't want to go medical school at all.
Fortunately I found my calling in my final year of university. There were two courses that changed my life: a Microbiology course spurred my interest in the world of public health, understanding how diseases spread and how to track them using maps and data; a Women and Health class inspired me to want to engage with others to learn about their experiences within the Canadian healthcare system. I'm seriously not kidding when I say that these courses changed my life and my perspective about the world we live in.
So I graduated and now I am pursuing an after degree with the University of Lethbridge in Public Health. From the moment I sat in my first class I fully knew I belonged here, and that this was what I was mean to do with my life. I definitely do not regret my first degree, as it gives me an advantage when understanding the real mechanism behind disease and how the human body reacts to it. Both of my degrees will compliment each other beautifully, and I'm excited to take my next step forward with my education. My end goal is to work for the Canadian government, perhaps as your health minister one day to make real change within our Canadian healthcare system.
Honestly, it's crazy to see that I changed my mind at the end of my degree regarding what I wanted to do with the rest of my life. That experience taught me that you're never too late to pursue your dream job, it might not come to you now but I promise you that you will find your best fit. And trust me when you find what you want to do, it's going to feel amazing.