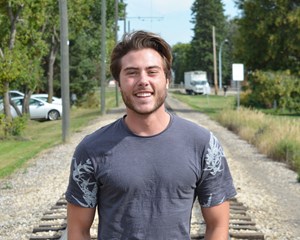 Institute

Bow Valley College

Program

Criminal Justice

Region

Calgary
When I was in high school I couldn't wait to be finished, but now that I get to choose what I learn school is awesome.
I was born in Red Deer but have lived in Calgary for most of my life. Growing up I loved skiing, baseball, and videogames. For as long as I can remember I've always wanted to be a police officer like my dad.
 
In high school I enjoyed getting to see my friends everyday and playing football, but the actual school part wasn't for me. I found my classes boring, so I didn't try my hardest. By the time graduation came around I was stoked to know I wouldn't have to sit through another class for a while. I was going to take a year off to work and make money! Sounds awesome, right? Well, that plan didn't exactly pan out.
When September rolled around I was working at a landscaping company. All my friends were going back to school and I felt sorry for them because I was out making money. That all changed when they started talking about how "sweet" post-secondary was.
Turns out, my friends were having an incredible time at school while I was going to work every day. I started feeling sorry for myself instead.
I changed my mind about taking the year off and wanted to go back to school, too. I considered applying to Criminal Justice at Mount Royal University (MRU), but psyched myself out when I started thinking: "what if I don't want to be a police officer?" I dropped that idea and enrolled in Business instead. I quickly discovered that Business didn't interest me.
After I completed my first semester in Business (barely) I applied to SAIT for Carpentry. The summer before I started the program I got a job at a renovation company. While working there I realized that I had no interest in doing carpentry for the rest of my life.
During that time I also had a job as a prison guard, where I worked alongside police officers. That experience made me realize that being a police officer was my true calling. I talked to an academic advisor about applying to MRU's Criminal Justice program and was told that even though I met the minimum requirements I wasn't close to the competitive average to get in.
So I upgraded for a semester, and now I'm on a waitlist for the program. For now, I've enrolled in the Bachelor of Arts program as "undeclared" so that I can start taking classes towards the Criminal Justice degree. Honestly, post-secondary it's been one of the best experiences of my life. It's amazing how much your perspective on school changes when you take classes you're excited about.