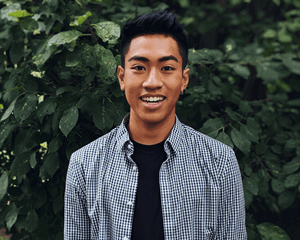 Institute

University of Calgary

Program

Risk Management and Insurance

Region

Calgary
I thought a degree was my only way to succeed. Then I taught English and backpacked overseas and realized experience matters too.
I grew up in a small town outside Calgary called Chestermere. The town had a warm, united feel to it and welcomed people from all walks of life. My childhood was mostly spent hanging out with friends at the park and keeping myself busy with art projects at home.
In high school I decided it was time to open myself up to new challenges, so I enrolled in the International Baccalaureate program to grow my knowledge in math.
I was also active in a few different clubs in high school—and I like to encourage all students to get involved in at least one club at their school. What really appeals to me about student clubs is that they provide a risk-free environment to learn and try new things. Plus, it's a great way to connect with fellow students and work on projects that really interest you outside of your regular schoolwork.
I was involved with the Company Program through Junior Achievement Southern Alberta (JASA). The program provided students with a platform to explore the Calgary business community and be inspired by entrepreneurial leaders in business.
My extracurricular involvement with this club enabled me to explore my passion for entrepreneurial thinking and innovation, and was a major highlight of my high school experience. High school went by in a flash and the next thing I knew, I'd graduated.
Then it was off to university for me—my first year at the University of Calgary (U of C) was pretty tough and honestly, I didn't feel like I was qualified enough to be there. One valuable thing I learned was that it's okay not to know everything. I learned to be comfortable with the unknown, and this challenge pushed me to recognize my weaknesses and build on them.
During my time as a post-secondary student, I had amazing experiences outside the classroom too. I never thought I'd see myself in a foreign country, let alone teaching English, but through the not-for-profit organization AIESEC I was given the opportunity to teach English to high school students in Taiwan.
Although this experience isn't closely related to my degree, I saw it as an opportunity to push myself out of my comfort zone; from it, I learned how to be resourceful, independent, and adaptable.
Now I'm in my fourth year at the U of C's Haskayne School of Business, concentrating on Risk Management and Insurance. Coming out of high school I couldn't have anticipated all the experiences and growth I've been through in the last couple of years. Post-secondary has allowed me to travel, learn about other cultures, expand my hobbies, and meet so many new people. It's been a gateway to exploring my passions and growing them.