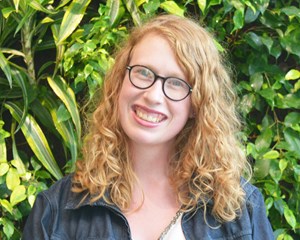 Institute

University of Alberta

Program

Education

Region

Edmonton
A farm girl from Northern Alberta, I've studied sewing, travelled, and now my discarded childhood dream to teach is my passion!
I grew up a farm girl in Northern Alberta. I loved being surrounded by canola and wheat fields. I wasn't exactly the most social child, but I had those few special friends. Some of which are still with me to this day. I was definitely your typical small town girl: I got good marks, drove a pick-up truck, and was an active member of 4H. I also loved reading, sewing, and drama.
The idea of moving directly to a large city after high school definitely intimidated me. That was one of the reasons why I decided to go to Olds College. Sure, it was on the other end of the province, but it was a small(ish) farming community that reminded me of home. I decided to pursue my love of sewing by taking their Apparel Technology Diploma. It was a fantastic 2 years! I met some of my closest and best friends there.
After my diploma I was lucky enough to be offered a one-year position in Japan working as a Canadian Ambassador. Talk about a big move for a small town girl. It was an amazing opportunity that taught me a lot about myself. When I came back home to Canada I worked retail (which turned out to be a total bummer) and travelled (backpacking FTW!) for two years. After all of that I realized that I still hadn't found what I wanted to do with my life.
So I took a long hard look at my life and discovered that the things I loved the most all involved working with kids. When I was in elementary I had wanted to be a teacher, but I had pushed that dream away as being too ordinary, boring. Eventually I came around to realizing that it isn't ordinary, it's actually perfect for me, and now I'm working towards becoming the most EXTRAordinary teacher ever!
I've only got one year left of my education degree until I am officially "Mrs. Lam the wacky drama teacher," and I'm super excited about that!