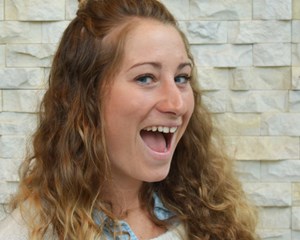 Institute

Mount Royal University

Program

Business

Region

Calgary
A full-time business student, athlete, and entrepreneur, I study business and am aiming for a spot at the 2020 Olympics.
As an adventurous kid born and raised in Calgary with the mountains close to home, I loved anything to do with the great outdoors. My family would often go on multi-day canoe trips in the deep woods, where I discovered the thrill and excitement of whitewater canoeing and kayaking. My love of canoe slalom took root here, and I've made it my life's goal to become an Olympian.
In addition to being an active kid, I was also a social butterfly: I loved talking to my friends both in and out of class, which didn't work out so well for my grades. Since I'd always had a hard time in school I never really considered going to post-secondary. Instead, I planned on becoming a professional athlete. Who needs school when you can go pro, right?
Well, my plans changed pretty quickly a year after graduating from high school. I found myself in the hospital with a broken kneecap, unable to train, and that's when I realized I needed a fall back plan. This injury was a pretty major setback, but it taught me to think about nourishing other parts of my life than just athletics. I decided to go back to school, and I set my sights on finding the right program for me.
You may be surprised to discover that being an amateur athlete requires some cash money, and I'm expected to raise anywhere from $30,000 to $50,000 a year for coaching, training, and competing fees. I've had to do a lot of fundraising, which involves marketing myself to potential sponsors. I realized I'm pretty good at it, so I enrolled in a Business Degree with a major in marketing.
My experience in post-secondary has been amazing so far, and I'm a much better student now that I'm actually engaged in the subjects I'm learning. I've met some of my best friends on campus, became President of the Marketing Society, and got this sweet job with the Government of Alberta! I've done all this while also getting to travel the world for training camps and competitions. I miss about a month of every semester, but I'm able to work with my professors around my schedule so that I can be successful.
Student. Athlete. I'm living proof that you can do both. I'll be 29 years old when I compete in the Tokyo 2020 Olympic Games. After that, I'd like to look into applying for a Master of Business degree, but right now I'm just focused on finishing my undergrad! Curious about what a day in the life of a student athlete looks like? Check out my video!