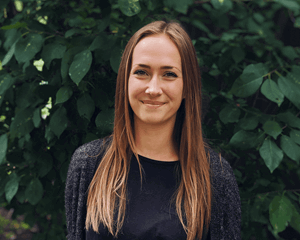 Institute

University of Calgary

Program

Psychology

Region

Calgary
A year off (that turned into 3) traveling the world helped me to discover myself, returning me to my education more genuinely.
Born and raised in Edmonton by families of recent immigration, I was practically born into Irish dancing. My childhood consisted of daily practice and traveling to competitions all over Canada, the US, and even Europe. While school was expected to be a priority for me, dance seemed more important most of the time.
Plus, sometimes school went on the back burner because of mental illness within my family. Having to deal with this forced me to grow up quick and become fairly independent at a young age. Despite all the stress I managed to pull off decent grades in school, excelling in Language Arts.
After graduating from high school, I decided to take some time off to work, teach dance, and figure out what I wanted to do with my life. It wasn't long before I started to miss being in school – surprising even to myself – so I applied to MacEwan University for General Studies.
Initially I was leaning towards a Business degree because it seemed like a lucrative field, but I realized pretty quickly that I wasn't that interested. It wasn't until I took my first Psychology course that I began to discover a real spark in my university career.
I transferred into a Bachelor of Arts with a major in Psychology, but still wasn't convinced that was the path for me. Feeling lost, I decided to take a year off from school and travel Southeast Asia, Fiji, Australia, and New Zealand. As a lot of people do, I caught the travel bug after my first big trip and was itching to explore the world.
I still wasn't set on a Bachelor of Arts degree and didn't feel a rush to go back just yet, so I continued to work and travel. It was in India, Nepal, and Central America where I began to really learn about myself and what is important to me – which is primarily a sense of connection with those around me.
With these insights I returned to my degree as I knew that Psychology had the potential to fulfill me in what I thought was important in life. I returned to school wanting to learn and apply myself, which made a massive difference compared to when I was feeling lost and studying courses I wasn't interested in. I transferred to Sciences for a short while, thinking that a Science degree would be more credible, but ended up coming back to the Arts confident in where my strengths lay.
The best part of post-secondary, but also the scariest part, is the endless possibilities. It can definitely seem overwhelming at times, but with a sense of optimism it's exhilarating! I've found that it is all about having as many experiences as possible, finding out who you are, what you like and dislike, and going from there.