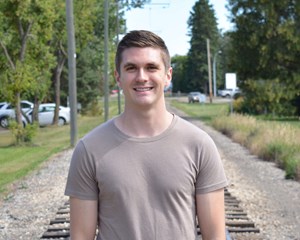 Institute

MacEwan University

Program

Commerce

Region

Edmonton
I've worked in 7 different fields and didn't discover what I wanted to do until my third year of university.
I was born in Edmonton and lived there for most of my life, aside from a short 2-year stint in Kelowna. Growing up, I played a lot of video games and thought that game design would be a good career choice for me. However, I ended up changing my mind about what I wanted to do with my life at least half a dozen times.
I'd be interested in something, like biology for instance, and would start imagining how cool it would be to work in that field. I would think for a time that I'd settled on my career path, but then I'd read about some new type of job and decide for a few months that I wanted to do that instead. I flipped and flopped pretty constantly.
After graduating high-school, I worked a couple jobs in a variety of different fields. I tried my hand at carpentry, auto body tech, heavy equipment operation, sales, and garage door installation, but none of them seemed to be a very good fit for me.
My grandparents suggested that I go to school to get a degree and figure out what I wanted to do from there. I took their advice, but it meant that I'd first have to upgrade my high school marks at Centre High so that I'd have the grades to be accepted into university.
At the time, I wasn't really sure what I wanted to study, but I upgraded my marks and applied to university anyways. My family tried to help me out by suggesting programs I should apply to based on the money that I could stand to make in a particular field—but of course, money isn't everything, and they didn't really take into account whether or not I'd be happy in that particular line of work. While I appreciated their support, I knew early on that it was up to me to figure out what program would be my best fit.
It's taken me a couple years in university to start zeroing in on the sort of career I want. By taking a variety of different classes I've been exposed to all sorts of subjects, which has helped me to discover where my interests lie. It's only now that I'm nearing the end of my degree that I think I've finally found something that I'm interested in pursuing as a career.
The cool thing about being a post-secondary student is that you have a couple years to try new things and figure out what you love. It's the perfect time to take classes that interest you, join a couple student clubs, and volunteer in your community. These are all ways that you can broaden your knowledge and get a better sense of the career path you want.
This last year I discovered that I have a passion for mental health, and would like to pursue that as a career thanks to my decision to branch out and take classes that were outside of my core degree plan.