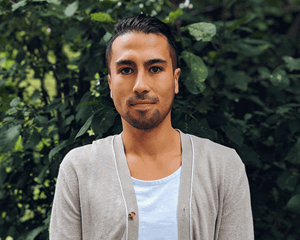 Institute

Athabasca University

Program

Game Development and Programming

Region

Calgary
I went from the classroom to the recording studio, environmental fieldwork, and a laboratory - now I'm back in the classroom.
My parents moved from Santiago, Chile to Calgary, where I was born and raised. In elementary and junior high I was always waiting for that recess or lunch bell so I could shoot hoops or kick a ball around. I was on the basketball team and the soccer teams all through high school. As a competitive athlete, I always strove to do well in school and stay out of trouble. Music got me through hours and hours of homework, and became one of my true passions.
I never really thought about what to study in post-secondary until my final year of high school, when I had multiple people telling what I should be studying: "you're good at math and physics, study engineering" or "study business so you can make lots of money." I decided to enroll in Business at the University of Calgary right after I graduated, but didn't feel like I had any real direction.
Eventually I transferred to Mount Royal University to study Criminal Justice, because I wanted to make a difference in the world and figured that would be a better path for me.
All throughout university, I still had music to get me through those long study nights. I'd satisfy my creative side by making mixtapes and beats for friends and fellow students to jam out to.
I began writing, recording, and producing music as a part-time job. After two and a half years of studying Criminal Justice, I decided to follow this music passion of mine. I applied to a private career college called the Ontario Institute of Audio Recording Technology in London, Ontario. There I learned about sound design, acoustics, recording, mixing, and editing audio for film and music.
After a year working in the audio industry, I decided to return to Calgary. Through a previous employer, I got a job as a lab biologist for an environmental consulting company, and got to learn about environmental science and toxicology—basically we'd help companies to not kill fish and other species in rivers and lakes. I got to work on archaeology projects, field studies, water testing, and even helped publish a study that led to government regulation changes. This was a majorly rewarding position in which I was able to have a positive impact on the environment.
These days I'm still learning and exploring my passions. Being involved in so many different fields of study and work has allowed me to discover a lot about myself. My current program at Athabasca University in Game Development and Programming will add another tool to my toolkit. Adding computer programming to my audio experience will allow me to grow my career into the post-production media world and, who knows, perhaps another rewarding experience I never saw coming.