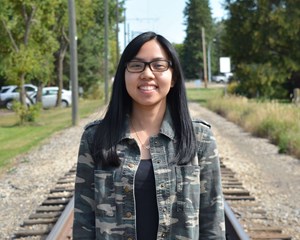 Institute

MacEwan University

Program

Nursing

Region

Edmonton
I traveled from Saudi Arabia to study nursing as an international student and it was one of the best decisions of my life.
I am a Filipino and was born in a small city in Saudi Arabia called Yanbu. I later moved to a small city named Jubail, where I grew up and attended an international K-12 school. As a kid in elementary I was pretty shy, but as I grew up I socialized more and made great friends who I'm still in contact with to this day. I've always had a love for dance: it started in a Grade 3 aerobics class and has evolved into a love of hip hop and Korean pop.
I always felt like there was a lack of extracurricular activities for the students at my school, and I wanted to change that so I ran to become the Student Council President in Grade 12. In that role I re-ignited school clubs and helped out at different events with the help of my amazing student council team. It felt good to be involved and strengthen our school spirit!
My high school didn't have a guidance counsellor so everything I learned about the value of education came from my parents. They taught me that education can make a huge difference in our lives, because it takes you to different places and opens doors to many opportunities. Through their education, my parents were able to make it to Saudi Arabia and work many years to build a strong family.
This is why I chose to attend post-secondary: I want to build a strong foundation for my life too.
When my dad asked me what I wanted to do after high school, I gave him a long list: baker, dancer, sewer, hairdresser, hotel and restaurant manager, paramedic, engineer, nurse, and carpenter. He broke it to me gently that I couldn't possibly do everything at once and that I'd have to pick just one for now. He even organized a workshop with my family to help me figure out where my values lied so that I could pinpoint the one I wanted pursue as a career. Through this process, I realized that I valued helping people and safety the most, which lead to my decision to become a nurse.
My post-secondary options were limited in Saudi Arabia so I knew I had to leave the country for my education. I chose Canada because my siblings are here and I enjoyed the country every time we visited. One of the biggest challenges I faced when applying was that, because I was in another country, I couldn't actually see the universities I was looking into. So the internet became my best friend for researching my options.
I'm now in my fourth and last year of nursing school at MacEwan University, and my favorite part about post-secondary is that every year is filled with different opportunities. For instance, I volunteered for the Students Association during my first year and later joined the MacEwan Ambassadors program. Despite being a busy nursing student, I'm still able to enjoy myself and be involved in student life like I was in high school. I've even found time to continue dancing by creating my own local K-pop dance group named APRICITY!
During my studies my passion for nursing has grown and I've come to realize that there's more to the profession than just being in the OR and ICU. In fact, there are so many ways to be a nurse both within and outside the hospital setting. Although I'm nearing the end of my degree I'm still unsure of what I want to pursue after graduation. I know that the time will come for me to decide but for now, I want to take the opportunity to explore the different options while I'm still in school so I can make a better informed decision later in the year!