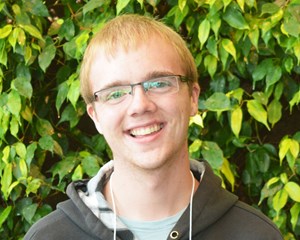 Institute

Mount Royal University

Program

Communication Studies

Region

Calgary
I never knew what I could accomplish until I entered university and realized I held the key to my own success.
I was born in Red Deer and raised in Grande Prairie. My life started out pretty normal. I'm the youngest of three kids, and I always found success following in my brothers' footsteps. I was always challenging myself to be better than them at the things they were good at, from sports to school.
That all changed right before I started grade six. I became ill with a chronic stomach disorder, and my priorities changed. Gone were the days of hanging out in the shadows of others, as I entered a period where I had to make hard decisions for myself. I transferred to an online school called St. Paul's Academy in Okotoks and followed the digital path almost all the way to graduation.
In my final years of high school I was easily distracted – having the freedom to set your own schedule isn't always a good thing – and my marks suffered. Because of this, I wasn't prepared for university. I made a promise to my parents that I would enroll in Open Studies at Mount Royal University and figure out what interested me.
At first I thought a career in science and technology would be ideal because it would be an extension of my father's work and make my parents proud of me, but I quickly realized that it wasn't what I truly wanted. During my time in Open Studies I would walk past the journalism department every day, and I was always fascinated by the work going on behind closed doors.
So, after upgrading and taking time off school to work and save some money, I applied to the journalism program at Mount Royal. However, after an interview at the university I was still short one high school credit and didn't get in. This failure was devastating, but I wasn't going down without a fight! I re-applied as a mature student the following year and was accepted.
Since becoming a full-time student I've made the Dean's list every semester, and the President's list three years in a row. Although my academics are something I'm proud of, they were a gateway to my best university experience yet: studying abroad for 11 months in Japan.
My journey has had its ups and downs, but I've learned that failure isn't a bad thing if it can help me determine where my strengths lie. I now try to let my fears empower me to become a better version of myself. Right now, my biggest challenge is deciding what to do after university, but – with my international experience and intern opportunities through Mount Royal – I have no doubts that the answer will become clear in due time.