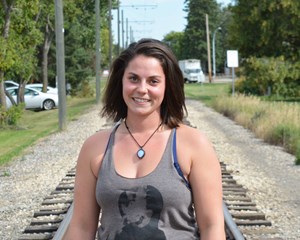 Institute

MacEwan University

Program

Psychology

Region

Edmonton
I was stressed about not knowing what to do with my life until I studied in Ecuador for 6 months and my life completely changed.
I was born in St. Albert, grew up in Hinton, and moved back to St. Albert when I was 15. I've been a dancer since the age of two; ballet, tap, jazz, hip hop, lyrical, contemporary, Irish, modern, musical theatre, Latin, you name it. I also play several instruments, I'm a total nature nerd, and I love to travel and go hiking.
Prior to high school I didn't really have to study to get good grades, but that all changed once grade 10 hit and my marks tanked. I grew to despise school and chose to focus on dance instead. I had absolutely no desire to attend post-secondary, but my mom really pushed me to go because she never got the chance. So after taking a year off after high school, I decided to apply without really knowing what I wanted to study.
I applied to MacEwan's Bachelor of Arts program but unfortunately I didn't do much research beforehand, so I started classes feeling nervous and unprepared. By second semester I'd mentally checked out and did very poorly. I'm still trying to recover from my bad grades, but I did discover my love of psychology.
Not feeling super stoked about school, I jumped at the opportunity to attend a training program the following summer at Harbour Dance Centre in Vancouver. I was off to fulfill my dream of becoming a professional dancer, until my body said no a couple weeks in. I had to make a hard choice between dancing for a few years and potentially losing the ability to walk, or moving back home to get surgery and heal. I chose to heal.
Saying goodbye to my dream of dancing left me in a dark place until I woke up one day and decided I didn't want to feel that way anymore. So, I went back to school.
On the first day of my third year Spanish class, I met a girl who said she was going to study abroad in Ecuador. Immediately after class I applied to the exchange program, too.
The experience changed my life. It allowed me to view education through a different cultural lens, I got to spend a few days in the Amazon, I was cleansed by a Shaman, and I figured out my long term goal is to become a Naturopathic Doctor… or so I thought. As I am entering the last semester of my degree I still don't know exactly what I want to do. However, this uncertainty doesn't bother me like it used to – in fact, it's actually kind of exciting.
What I do know, and what might just be more important that knowing the exact career path that I will take, is the kind of lifestyle I want to lead and the types of people I want to be around. This has left me confident that I will find the right career for me - even if I have to create one. 
If there's one thing I've learned, it's that my end goal will probably change 128746 times before I'm done my education. And that's okay. We all make choices and we all change our minds. Cheers to the unknown!