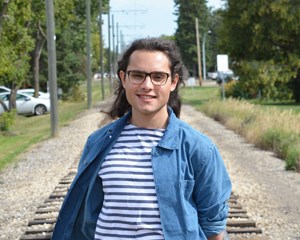 Institute

University of Alberta

Program

Human Ecology

Region

Edmonton
When I started post-secondary I couldn't find a program that was a perfect fit for me, so I shaped my degree into what I wanted.
I was a shy kid growing up, an only child born and raised in Edmonton. Believe it or not I would eventually do a complete 360 and became a total extrovert, to the point where I joined my high school cross country and swim teams, as well as student leadership. In addition to my extra-curricular interests in high school, my one love was always fashion design. I was fascinated by the process of making clothing and I loved how personal style could be used as a way to set yourself apart from others. I've always felt that trying to fit in is super boring.
Fast-forward to the end of high school, when it was time for me to start thinking about my post-secondary education. At the time I was really worried that I didn't have the grades to get into the school I wanted—to the extent that I almost didn't even apply. But one day in February, despite my self doubt, I took a risk and sent in my application to the University of Alberta's Bachelor of Science in Clothing, Textiles, and Material Culture program.
I knew this program was for me from the very first time I visited their faculty booth at an open house—I literally had goosebumps when I came across it.
Lo and behold, I got in! I'm now in the last year of my program (huzzah!) and if I could describe my post-secondary experience in one word it would be: metamorphosis. I entered into my program pretty small-minded, and felt like I couldn't relinquish control to other ways of thinking. This all changed when I took my first design class. I went from someone who had a narrow idea of design and hated school, to someone who finally found their passion.
If I could offer you one piece of advice it would be to find a mentor or someone/something that motivates you everyday to be better. Post-secondary hasn't just been about learning things in class, it's opened me up to new ways of thinking and new experiences in the best way. During my time as a post-secondary student I've been able to grow and better myself as a human being.
When I finish my degree I plan to work in human-centred design. This is a very general field, which means that it's full of opportunity. I think someday I might go to grad school to get my PhD, but I also think it's also important to have a balance between theoretical and experiential knowledge. So in the next few years, I want to experience all the world has to offer outside the four walls of a classroom.