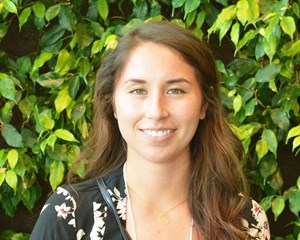 Institute

University of Alberta

Program

Native Studies

Region

Edmonton
I never thought I was smart enough for university, but since overcoming my fear and self-doubt I'm thriving in post-secondary.
I'm originally from Wikwemikong First Nation located on Manitoulin Island, ON. I moved away from my home community at the age of seven and grew up in Wetaskiwin. As a kid I got involved in many extracurricular activities including band, dance, choir, and cheerleading. I mainly loved the thrill of performing.
I had absolutely no idea what I wanted to do after high school. I never thought post-secondary was an option for me, so I didn't even consider it. My grades were mid-average, and my confidence as a student was pretty low. I was plagued with self-doubt. It was only after I graduated high school and chose to upgrade at Centre High in Edmonton that I began to believe in the possibility of going to post-secondary.
After attending two presentations about the Native Studies program at the University of Alberta, and doing a student shadow, my interest was sparked. I ended up applying to two different programs at two different schools: Native Studies at the U of A, and digital media at NAIT. I got accepted to both, and in the end I chose Native Studies.
It was a difficult choice and I was terrified at the thought of starting school at the U of A. But as one of the first in my family to attend university I didn't really feel I had anyone I could talk to about my intense fear, so I just jumped in—nerves and all.
Lo and behold, I survived. In fact, I've thrived in university. Now, I am finishing my fifth year in Native Studies in the Honours program. What started out as a small interest in Native Studies has become a passion.
Over the past four years I've gotten involved with the Native Studies Student Association as Secretary, Vice-President, and President. I won an award for my research on the significance of Indigenous women in Indigenous cinema. I wrote my fourth year honours paper about misrepresentations of Indigenous women in media. I've had amazing employment opportunities as a teacher's assistant for an Indigenous art class, a research assistant, and a presenter for an online course called "Indigenous Canada."
Throughout my journey the greatest thing I've learned is that, despite all of my intellectual knowledge, my biggest obstacle has always been myself. It was only once I got out of my own way by breaking through my self-limiting beliefs that I began to thrive in school. As a result, I was able to find my passion for Native Studies and combine it with my interest in film and media.