About
Become an Ambassador
Join the Learning Clicks team to motivate students to explore post-secondary options!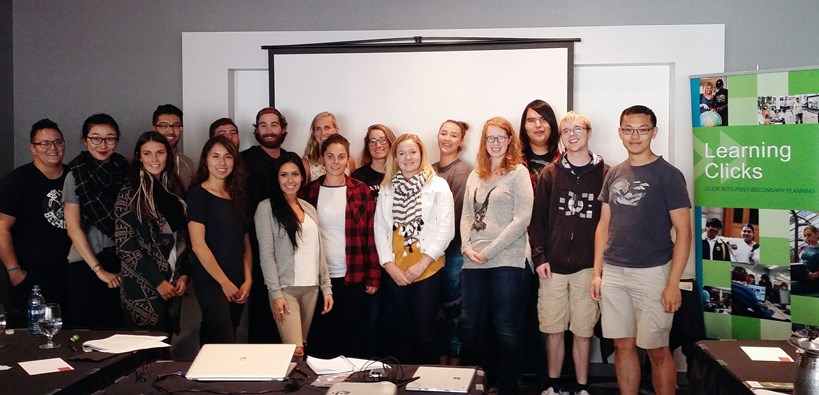 What is a Learning Clicks Ambassador?
Our team of Learning Clicks Ambassadors motivates students in grades 7-12 to explore their education and training options after high school by delivering interactive classroom presentations, sharing stories about their own unique post-secondary journeys, and connecting students with tools and resources to plan and achieve their own post-secondary success.
If you have a desire to help younger students discover their potential through post-secondary education, this could be the perfect part-time position for you!
What does a Learning Clicks Ambassador do?
As a Learning Clicks Ambassador your role is twofold: to provide engaging, informative classroom presentations to students in grades 7-12, and to share your story by blogging and/or vlogging about your experiences as a post-secondary student.
During classroom presentations you:
Share your post-secondary experience to motivate and inspire young students
Discuss the financial, academic, and social supports available to help students transition into post-secondary
Introduce students to online tools and resources to help them explore their career and education options
Help students figure out what they can do now to plan for post-secondary
You'll also get the opportunity to flex your creativity by developing content for our website. With the support and direction of our web editor, you'll be creating content about your own post-secondary journey, student life, and career development. 
What are the perks?
You get to work in a fun, collaborative environment with your regional team members and be part of a larger provincial team for support and guidance. This position is ideal for post-secondary students as it offers:
A flexible schedule that works around your academic schedule
Equipment for a virtual office (including a tablet and office supplies)
Dynamic and thorough training to ensure you're ready to begin in September
An amazing support team to help you succeed in presentations and in developing website content
Unique experience to add to your resume and an invaluable opportunity for personal growth and development
Qualifications
We're looking for candidates who demonstrate a strong desire to help younger students discover their potential through post-secondary education. We'll help you with the other stuff, like honing your presentation skills, sharing your story, and explaining post-secondary options in Alberta.
You must be a current post-secondary student who has completed at least two years of full-time post-secondary studies and will be continuing as a post-secondary student for the 2017/18 academic year. A willingness to speak to groups of students is required, as well as a valid Alberta Class 5 Drivers License and consistent access to reliable and timely transportation to present in various locations across your region.
Experience with blogging and/or vlogging is considered an asset, as well as fluency in a second language or experience with Indigenous communities. Final candidates for this opportunity will be asked to undergo a vulnerable sector security screening.
Salary
$28.77/hour plus mileage for travel within your region.
Notes
This is a part-time wage opportunity. You'll be delivering presentations in junior and senior high classrooms so a flexible school schedule that accommodates work during regular school hours is required. Please provide the following information in your cover letter:
Why you decided to pursue post-secondary studies
Verify possession of a class 5 license and availability of a vehicle
Which community you will be living in and what post-secondary institution and program you will be attending in September
Your set or anticipated class schedule
How to Apply
Visit jobs.alberta.ca and choose "not an employee" to view the current Government of Alberta jobs list. Then type "Learning Clicks" in the keyword search box to find our posting and apply online.
Application Deadline
This competition has now closed.
Questions?
Contact Cathy Tidey, Manager of Outreach Programs, at 780-415-9277 or Cathy.tidey@gov.ab.ca.